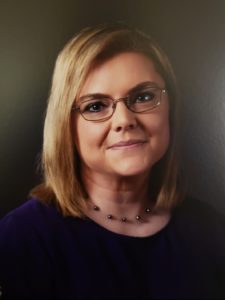 Robin Hinrichs, LMHP, LPC, NCC, LADC completed her Master's degree in community counseling from the University of Nebraska at Kearney in 2005 and is licensed as a mental health practitioner (LMHP) and licensed alcohol and drug counselor (LADC). Ms. Hinrichs is currently trained in EMDR (Eye Movement Desensitization and Reprocessing).
Ms. Hinrichs began her career in the substance abuse field working with incarcerated populations. She transitioned to the community for a period of time to work in outpatient therapy before returning to that field.  She then made the decision to open her current private practice. She has served individuals of all ages and diverse backgrounds with substance use and/or mental health issues both individually and in groups. Ms. Hinrichs has extensive experience with criminal justice clients. Ms. Hinrichs has extensive experience with criminal justice clients.  Her areas of experience include depression, anxiety, PTSD, personality disorders, interpersonal relational difficulties, anger management, and substance abuse issues. She works with individuals that have experienced major life changes such as traumatic brain injury, trauma, and grief/loss issues.
Ms. Hinrichs blends a variety of treatment approaches including cognitive behavioral therapy, solution focused therapy, insight-oriented therapy, dialectical behavioral therapy and play therapy. She approaches therapy with an open mind and utilizes a variety of different tools based on the individual's personality and presenting problem(s).
Ms. Hinrichs established her own company, R.H. Counseling Services, located at The Psychology Center.  She is a provider for most major insurances (please check your provider list to ensure coverage).  Yu can reach Ms. Hinrichs via phone: 402-217-6626 to schedule an appointment or answer any questions you have.